This is the fifth time we're enrolling Fearless Mastery, the first four rounds were absolutely transformative. I invite you to join us, if you're up for an adventure.
​
Be a part of my mission to change 100 million lives through this training — get in on the ground floor, and help us change the world.
I'd love to run with those who would like to dive into self-mastery, getting good at discomfort and remaining in uncertainty.
Private Coaching Bonus Extended to  5/27
You care deeply about making an impact on the world. You care deeply about anything you do. You give a shit.
You're a leader, a founder, an entrepreneur, who has put themselves into a world of uncertainty.
You'd like to make an impact on the world — but first you have to grow into the person you need to become to make that impact.
​
We invite you to run with us.
​
To train with us, in uncertainty and discomfort.
To set the world on fire together.
We're now enrolling our mastermind + group immersion experience that only opens for enrollment once every 6 months.
The mastermind + group immersion will include:
Accountability & support in setting big moonshot goals for your business & mission so you can achieve them

Weekly live video calls on Zoom, with Leo as guide

Training in uncertainty & discomfort, using the Fearless Training system

3 Business strategy & focus deep dives (1-on-1s with Leo and the teaching team)

Marketing review, planning & coaching session

Accountability to help you accomplish moonshot goals

Eligible to join our virtual & live intensives every six months (separate retreat fees apply).

The opportunity to attend special "guest workshops" that may get scheduled over the course of the cycle

Access to all existing Zen Habits products and tools

Beta early access to new products and tools

Lifetime access to anything launched during membership

Join a powerful alumni community on your second round
​
​This is more than a mastermind group. This is a group of firestarters, who will train together, and help each other turn up the heat.
"Set your life on fire. Seek those who fan your flames."
— Rumi
You care deeply, and deeply crave to make a powerful mark on the world. To shift the world in some meaningful way.
To grow your mission into something impactful.
And yet, you have doubts. You have trouble focusing. You procrastinate, get overwhelmed, and have trouble sticking to things.
You feel shaky about your ability to step up and be the bigger person you need to be. You're keeping your business playing a smaller game, out of fear and discomfort.
You feel isolated, but you're not alone. Fearless Mastery is a way to connect with a tribe of high-level performers, just like you.
You're in the right place if these are common problems for you:
Avoidance of difficult or scary things - hard tasks, difficult conversations, letting people go

Procrastination, a lack of focus

Feeling like you don't have enough time, or always feeling behind, even though you work your butt off

Trouble with discipline, consistency, sticking to your word, being trustworthy

Are often overwhelmed with too many tasks, emails or messages

Struggle balancing parenting & family with work

Worried that you're not focusing on the right things

Avoid taking your business to the next level, because of self-doubts
5 Crucibles of Your Transformation
Introducing the July 2022 Enrollment of: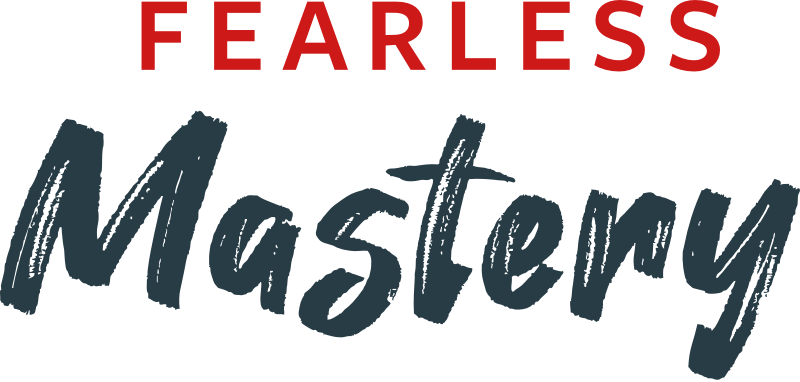 You will gain:
Self mastery & discipline

A sense of purpose and direction

The ability to stay connected to your purpose

A greater ability to stay focused on what matters

A tribe of leaders like yourself, working on this together

Tangible results in a big goal for your business and mission

The ability to handle challenging situations - company dissolution, breakups, deaths

The courage to take your business and mission to the next level

Leadership qualities to become the leader you've wanted to be

Growing out of childhood patterns

Showing up powerfully in all aspects of your life

Mastery & freedom of time

Structure in your life (allowing you to take on everything that's overwhelming you)
Every 5 months, you'll set a big goal to achieve

We'll create structure for achieving the goal

The tribe will work to give each other support and hold each other's feet to the fire

Whatever starts to get in the way will be your training ground! We'll train in the discomfort, uncertainty and old patterns that show up
Mastermind calls are weekly for 3 weeks, then 1 week with your small group.

Led by Leo, who brings years of expertise in training, coaching & habit change

Training exercises that we'll practice together

Hotseat coaching from Leo & the group

Will help address whatever difficulties come up on the journey of transformation
A community of high-performers who will support each other's transformation

We'll provide accountability for our goals and changes

Private group for discussion, support, and accountability 
 Retreat During Each 5-Month Round
1 on 1 deep dive each cohort with Leo

Additional 1:1 deep dives with Zen Habits coaches on mindset, marketing, growth, transformational coaching, whatever you need

We'll dive in so you can get clear on long-term vision and purpose

We'll look at your projects and opportunities and work on project design, and move whatever is in the way out of the way
Office hours with Leo and the team every week 

Quick help with whatever is blocking your habits, your training, your mission

This is a second optional call every week designed to support you with whatever you need in your personal or business life with transformational coaching
Full  lifetime access to all content in our transformation program Fearless Living Academy if not already a member

Unlimited access to all existing products, courses and ebooks, as well as anything released during your membership. 
Unlimited Access to all Programs
This won't just be an online program. You'll have the option to come together in a retreat intensive with our alumni community every five months of the mastermind. (separate retreat fee applies)

We'll train in deep practices to help us let go of old patterns and open up to the person we need to become to create a powerful impact on the world

Access to world-class coaches and teachers brought in
In between the retreat intensives, the intention is to host guest workshops with outside guests, and learn new skills
The Fearless Mastery Training Pillars
CLARITY
Seek to create clarity whenever you're being held back by a lack of clarity. Clarity of purpose, and a deeper Why. Clarity of vision and mission. Clarity of structure, and the steps you need to take.
A POWERFUL WAY OF SHOWING UP
Realize the power and goodness in you, create a powerful relationship with yourself, and show up in a powerful way for everyone around you (including yourself). Become a lighthouse for everyone who is in a storm.
FEARLESSNESS
Turn toward your fear & resistance. Do things that scare you on a regular basis, while practicing with the fear that shows up. Dive into the resistance with delight! Shift your patterns that are holding you back.
SIMPLICITY
Renounce attachments. Let go of that which is weighing you down, that to which you're clinging. Be attached to nothing, open to the moment. With this letting go comes a freedom, calm, focus and peace.
MEANINGFUL IMPACT
Do your best work, your mission, from a place of meaning. Have a powerful Why. Understand what you want to create in the world as a leader, and why your business truly matters.
SACRED RITUALS
Rituals give us structure, and hold us in the fire when we feel like running or avoiding. Elevate these rituals to the level of the sacred, beyond the ordinary mode of rushing through everything.
CONNECTION
Great leaders never operate alone. Show up for your tribe — your team, your organization, your community, your loved ones and develop deep relationships. Train in vulnerability, interconnectedness,  and deep love. Harmonize with yourself and your world.
SHARPENING THROUGH DEATH
Contemplate the fact of your death and use it to wake up to the preciousness of life. What would you do differently if this was your last act? How might you appreciate each conversation, task, hug if you knew it might be your last? 
This mastermind is not for you if:
You're not willing to face discomfort or be open to making changes
You don't have at least 6 hours a week to spend on yourself and your mission
You only want to read advice or get quick tips
You aren't willing to implement
You aren't willing to have accountability
You aren't willing to put in the effort, show up for calls, come to a live retreat
You're a high-level performer who would like to be at the top of your game
You're a leader who wants to make an impact in the world
You're willing to make changes, and do the work
You're ready now to roll up your sleeves
You know that the best investment you can make in your business is in yourself
You are ready to let go of old patterns
You are willing to participate in mindfulness practices as part of the training
You are willing to do things consistently even if they are hard
Become a Member of Fearless Mastery 
Here's what you get when you become 
a Fearless Mastery Member for FM05:
​
Weekly calls

and 1:1 access to Leo, the world leader in Fearless Training and habit change

Access to

massive library

of content

Private group

with a kick ass tribe of your peers for discussion

Deep dive into your goals with a

private 1:1 call with Leo

and the teaching team every quarter

Access to special guest

workshops

5 Months of a powerful container created for and dedicated to your transformation as a leader

Retreat Eligibility:

We've created an amazing format that combines physical space, with the best elements of a personal and group retreat, connecting our alumni members globally. (separate retreat fee applies).
​
Early Bird Bonus:
If you book your call by Friday May 20th, midnight Pacific time, and you enroll, you will receive personalized weekly 1:1 micro-coaching sessions with the Zen Habits Coaching Staff, tailored for you, for the duration of FMO5,  a $2500 value. This will be a very powerful way to begin and will be given only to those who step into this mastermind powerfully by acting decisively on this invitation.
Total Investment:
​
$6,000 Single Payment
(Save $1,500)
or
$7,500
($2,500 upfront +
$1,000 x 5 Monthly Payments)
Coaching with Leo is one of the best decisions I've ever made. He has a unique, gentle way of honing in on exactly what I need to work on. Coaching with him has not only resulted in greater profits for my business, but more importantly, a greater feeling of satisfaction with my life overall. I can't recommend working with him enough.
Rose Lounsbury
Author, Speaker & Minimalist
Coach
1. How will the virtual retreat work?? 
The great majority of this mastermind is online, and now more than ever coming together in community with your tribe is critical. This training in uncertainty is very much what you need right now to help you navigate these uncertain times in your business.
At present, our retreats take place as a hybrid designed to bring the best of traveling on retreat with the safety of online. These were immensely successful, as they feature an innovative design that takes into account the best aspects of physical space, solo retreats, and connecting with others globally all committed to doing the work.
While we highly recommend attending the virtual retreat, it is optional, as you will still have incredible breakthroughs during the five months curriculum, if for whatever reason you are unable (or choose not to) attend. 
The retreat has an additional cost associated with it, not included in the program fees.
​
2. How do I sign up?
We want to make sure that we are a good fit for each other, so we are booking calls with everyone who wants to join. Just hit the "Book a Call" button, and you'll be brought to a calendar where you can choose a time that works for you to get on the phone directly with Leo Babauta, where you can introduce yourself and get signed up!​
​
3. What if I miss a session?
All sessions and practices will be recorded and shared in a private member's area. You'll have access to the recorded sessions as long as you're in the mastermind. 
​
4. When can I book my private 1-on-1 session with Leo? 
We aim to get calls scheduled in the first half of each cohort. You'll get access to a scheduler soon after we begin. 
​
5. Is there a cap to the size of the group?
Yes. To have the best experience of a lively group with diversity, together with 1:1 attention we are capping the size of the group. Once 30 people sign up we will close the enrollment. Note that several places are already taken by returning members, so it's definitely best to apply much sooner than leaving it to the last minute, as a place may not be available.
​
6. What's your refund policy? 
Since we cap our group size to provide deep 1:1 support we ask that you ONLY reserve a spot if you're  committed to showing up to the sessions and performing the practices. There are no refunds given. This is to help you stay with the program even when you want to exit, so we can help you through whatever is coming up for you and open to the possibility that's available when you allow yourself to be be powerfully supported. 
​
7. What are the dates for the Mastermind? 
We run for five months from July 1, finishing at the end of November.  We kick off the mastermind at the beginning of July. In June you'll have the option to join connection calls hosted by Fearless Mastery alumni where you will begin to meet the group and be given some pre-work exercises. The weekly calls with Leo and weekly office hours calls will begin on July 5th. Our intensive retreat will be held in October (dates tbd). 
​
7. I'm worried I don't have the time — I'm already busy!
I believe you're likely to be one of the busiest people around. Our people usually are.
This busyness won't shift unless we consciously commit to shifting it. That can start with committing to Fearless Mastery.  Instead of asking if you have enough time for this … ask if what you want to create in the world, and who you want to be, is worth it. Book a call with us and we can help you make a shift in your relationship with time.
Are you ready to dive in?
OPEN ENROLLMENT ENDING IN
Join a group of fellow firestarters & high performers. Being in community with others like you is a powerful transformational experience, especially in these times.
Train with Leo Babauta, who brings decades of expertise, training systems, habit change methods to bear on your hardest problems.
We will help you using Hotseat Coaching, Calling Out Patterns, Working with Obstacles, Shifting your Old Patterns, and Training in Discomfort.
Train together at the end of every 5 months in a powerful intensive at a beautiful remote location, and go deep into shifting your patterns. (separate retreat fee applies).
Set a Big Goal every 6 months, create structure to achieve the goal, and use your group of firestarters to hold your feet to the fire with strong accountability.
The world's best training in fearlessness and dealing with uncertainty.
​
The only mastermind in the world focused on facing your fears with mindfulness, opening up to what you're avoiding, and training in discomfort.
The leaders in Fearless Mastery are dealing with the same problems. And we're here to work on shifting them together, to move mountains together.
Are you ready to create your world-shattering impact?
When I first started working with Leo, I was struggling to focus for more than 5 minutes on my most important project. Four months later, I was doing the best work of my life. Leo helped me find stability in the face of uncertain outcomes and develop confidence in my ability to navigate through that uncertainty.
​
​
Michael
Post-Doctoral Researcher
Fear is an aspect of my life I now appreciate and cherish. Being a part of Fearless Training has allowed me to fall completely in love with this version of myself that continues to grow, evolve and dissolve fear through taking steps by moving towards discomfort instead of away.
​
​
Josh Woll
Entrepreneur,
Creator of "Seeds of Love"
Leo's Fearless Training is helping me take my business to the next level.
Learning to sit with uncertainty rather than 'organise it away' is exactly what I need to push myself as an entrepreneur. Rather than keeping busy with all the easy stuff, I'm now finding that I'm more willing and able to focus on the scary stuff that matters.
​
​
Nicola Rankin
Founder, habitsculptor.com
Leo is an expert in breaking bad habits and forming good habits. I love his approach; he asks the right questions; he gets to the root cause. His fearless training is all about helping people take difficult actions. My productivity has gone up dramatically.
Thanks to this program, and after 20 years of trying, I have finally anchored a life-affirming morning routine. More notably, I am on course to launching my first book - given my fear of writing - this is so liberating!
Loic Lopez
Lifelong Learner
We are interested in working with leaders dedicated to becoming who they need to be in order to lead their business through uncertainty into fearlessly achieving their purpose.
Practice Fearless leadership.
Make an impact.
5-Month Mastermind and Group Immersion Experience from Zen Habits.
Starting July 2022.
This is how Fearless Mastery is structured to help you transform the problems you're struggling with
JT Giri
CEO & Co-Founder of nClouds
Our members share about the incredible transformations they've created in their lives, health & businesses, and the power of training combined with community. You'll also hear from a few other leaders about what it's like to work with Leo.
Amanda Goddard
Fearless Leader
Bethany Hegadus
Author & Mentor
Robrecht Dumarey
Patent Attorney
Christoph Weisbrod
Project Manager
Diane Tuscher-Ancede
Playwright
Ales Bascar
Productivity Expert
Leslie Lynch
Empowered Healthcare
Ting Ting Yan
Marketing Leader, Google
On your second cohort you gain access to the Alumni Leadership Track

Additional monthly training sessions with Leo and the team

Develop your leadership with access to leading and facilitating groups

Training in coaching, leadership, program creation, live events